6 Fabulous Tips on How to Wear Colored Pants
|
A few years ago, most of us would have considered colored jeans to be so 80s. That changed around 2012 when we suddenly discovered jeans does not only come in blue. It became a must-have. And jeans have left its standard color while still remaining timeless. Now, we can see celebrities walk the dull winter in a pop of coral or parade in bright yellows during summer. But how do you really pick out what's hot and what's not? Check out these fashion tips and guidelines that you could take note.
Never go wrong with neutral
You can never–I mean, never–go wrong with pairing any colored pants with neutral tones. Neutrals give you more liberty to wear whatever color you want to wear. It could either brighten the bottoms giving a pop of color to your outfit or flatter it. Also, you don't have to think in fear of whether bold accessories such as bulky jewelries and scarves will fit. They definitely will.
from posh24.com
from stockholm-streetstyle.com
from b-vintage.blogspot.com
Take note of the structure
Colored pants may lessen our worry of whether they would look good on us because they're too far below our face to have any huge facial impact. However, you can't just go and throw in a pair carelessly. Consider your body shape and the silhouettes that will complement you. A hemline that hits just at the ankle is flattering to almost anyone. Also, for pastel pants, you can show off the outline of your hips with boxy-silhouetted tops.
from blog.denimtherapy.com
from gbofashion.com
Your top's material
Depending on the color and shade of your jeans, there are some textiles that will give various effects to your look. For instance, silk-like tops adds up a dressy factor to your outfit. Leather gives a more edgy feel. Loose cotton offers a breezy and spring air.
from laurawears.tumblr.com
from popsu.gr
Make people look down… at your shoes
If you have a more dark top-and-bottom ensemble and are hesitant at flaunting the streets in bold colored pants, don't worry about lacking that ideal pop of color. Slip on a pair of studded ankle boots, bejeweled sandals, printed flats or pointed-toe heels. Just remember that for pastel jeans refrain from using spiked heels and stilettos. Opt, instead, for a more easygoing vibe with mid-height pumps, leather strapped sandals, or clogs that will be definitely fitting for spring and summer.
from forelyse.com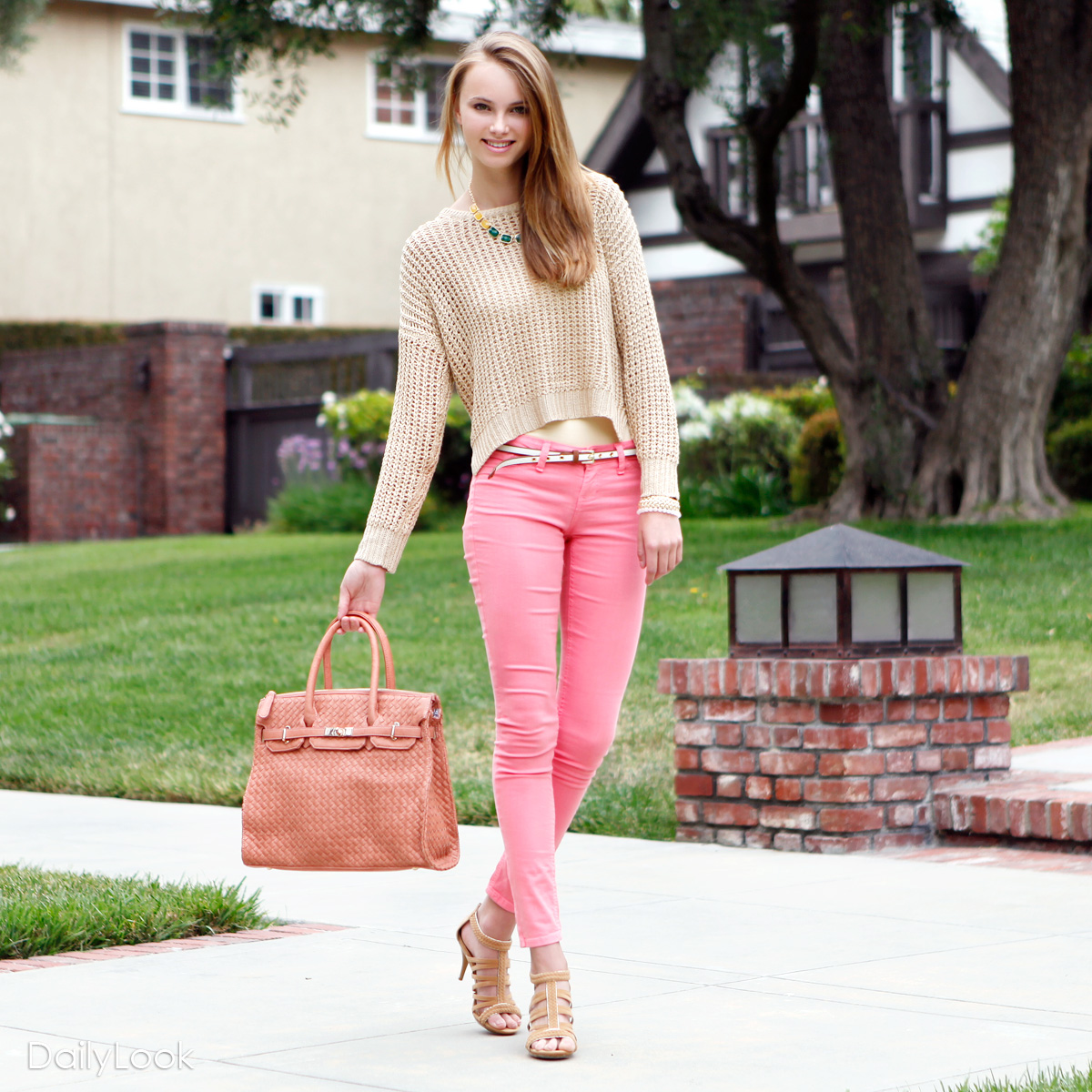 from dailylook.com
Colorblocking the similar ones
When you want to go for some colorblock, which means pairing solid colors together, try to keep it among the similar shades: bold and bold, pastel and pastel. It looks more gorgeous that way. If you're going for a loud statement with bold and bold outfits, balance it out with classic accessories such as pearl earrings and unisex watches. If you're for a more gentle pastel and pastel look, feel free to launch out your most eccentric jewelries.
from mydressyways.wordpress.com
from glitterandgrace.com
Print partner
Here's the basic way of colored pants-and-prints matching: look for that minor or secondary color in your printed top and find a matching colored bottom for that.  For example, you can pair a black-background-and-red-rose floral top with red jeans. You could also go for earthy or neutral-toned prints and slip on a more bold colored pants.
from kimberlyloc.com
from women-outfits.com
from shopping.blanco.com